Coming Home East MI Hiring Mixer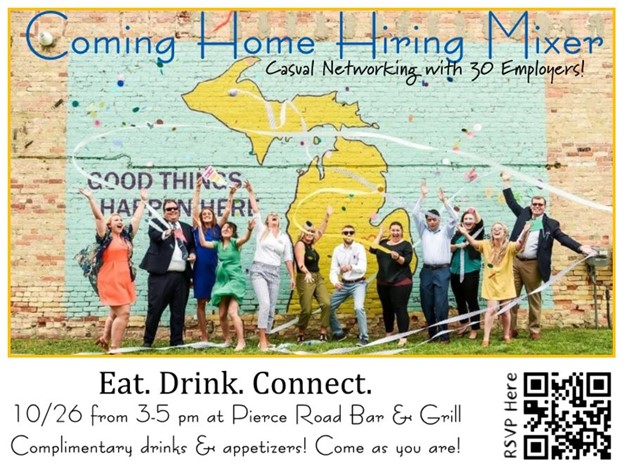 CONNECTING CAREER SEEKERS WITH EMPLOYERS

Saginaw, Mich., part of the Great Lakes Bay Region, October 4, 2023 Join Discover Great Lakes Bay for a business casual networking experience that will offer an opportunity for career seekers who are currently in the region or have left and are interested in coming home to work for 25+ world class employers. Those employers have specific positions available; go to https://discovergreatlakesbay.com/coming-home-east-mi/ to view the list.
Coming Home East Michigan is for more than just administrative positions. Our employers are hiring in nursing, skilled trades, finance, engineering, teaching, construction, sales, marketing, municipal positions and more. Join us for complimentary beverages and appetizers and mingle with our outstanding employers.
October 26, 2023
3:00 pm to 5:00 pm
Pierce Road Bar and Grill
2903 Pierce Rd.
Saginaw, MI 48604
Register for Coming Home East Michigan
This annual event features active employers in a relaxed atmosphere connecting them to engaged career seekers. The Michigan Economic Development Corporation provided grant support, along with assistance from the Great Lakes Bay Regional Alliance.
Retaining and attracting talent is the number one issue for both existing companies and those considering a location in the Great Lakes Bay Region prompting Saginaw Future Inc., Arenac County Economic Development Corporation, Bay Future, Inc. and the Midland Business Alliance to spearhead the talent attraction and retention initiative.
The Coming Home East Michigan and Coming Home Middle Michigan Hiring events were developed by the Great Lakes Bay Region 5 partnership made up of economic development organizations from Arenac, Bay, Clare, Isabella, Gladwin, Gratiot, Midland and Saginaw Counties. For more information go to www.DiscoverGreatLakesBay.com
KEY PARTNERS
Central Michigan University
Delta College
Great Lakes Bay Regional Convention & Visitors Bureau
Northwood University
Saginaw County Chamber of Commerce
Saginaw County Young Professional Network
Saginaw Valley State University
More Topics

The MEDC International Trade Program has a new allocation of Michigan State Trade Expansion Program (MI-STEP) funds available now for eligible small businesses. The U.S. Small Business Administration awarded Michigan $900,000 for the 2024 fiscal year which began Oct. 1. The total funding available is $1.2 million thanks to combined...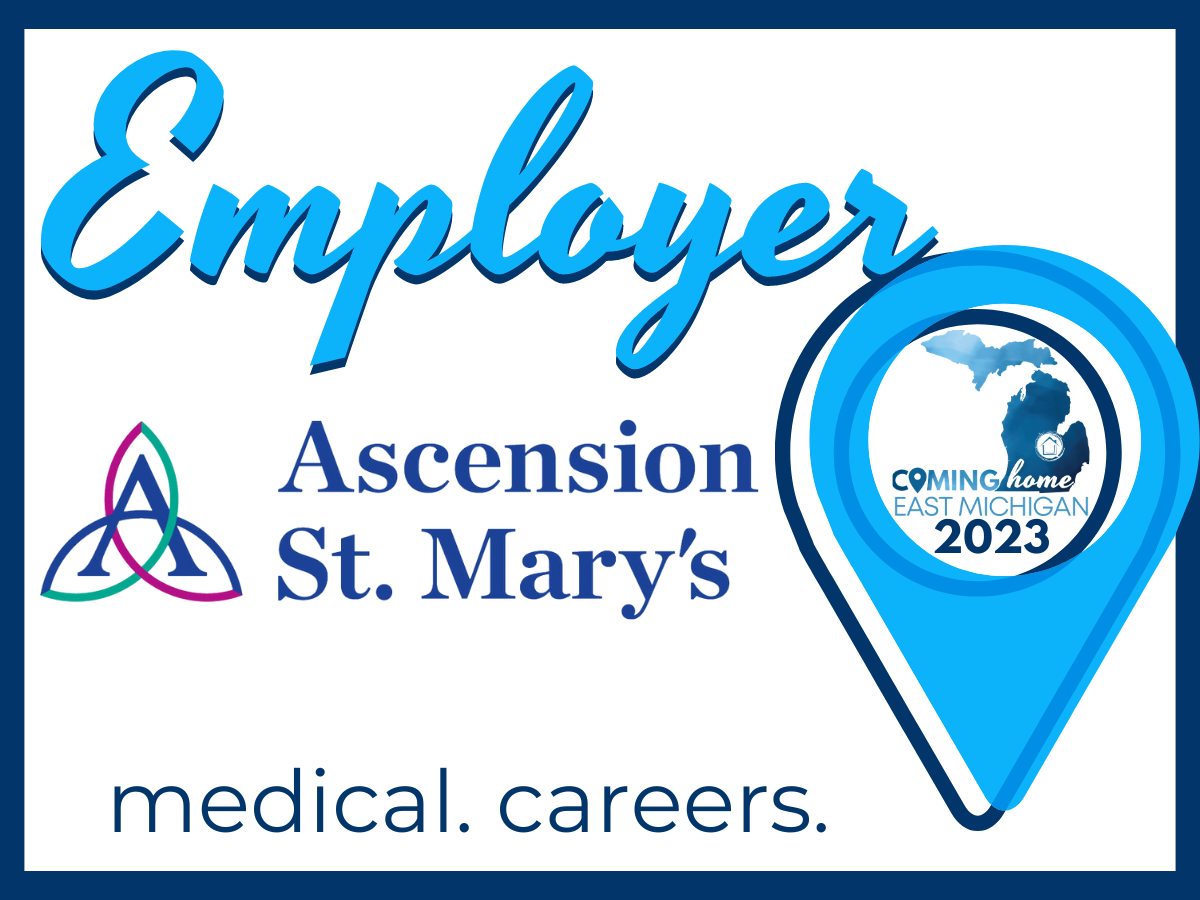 Check out #ComingHome East Michigan's networking mixer at Pierce Road Bar and Grill in October and meet with local employers like Ascension St. Mary's. Register today: https://form.jotform.com/231665071575156 Here is a little of what Ascension has to offer: Registered Nurse, MRI Technologist, CT Technologist, Medical Assistants, Security Guards, Surgical Technologist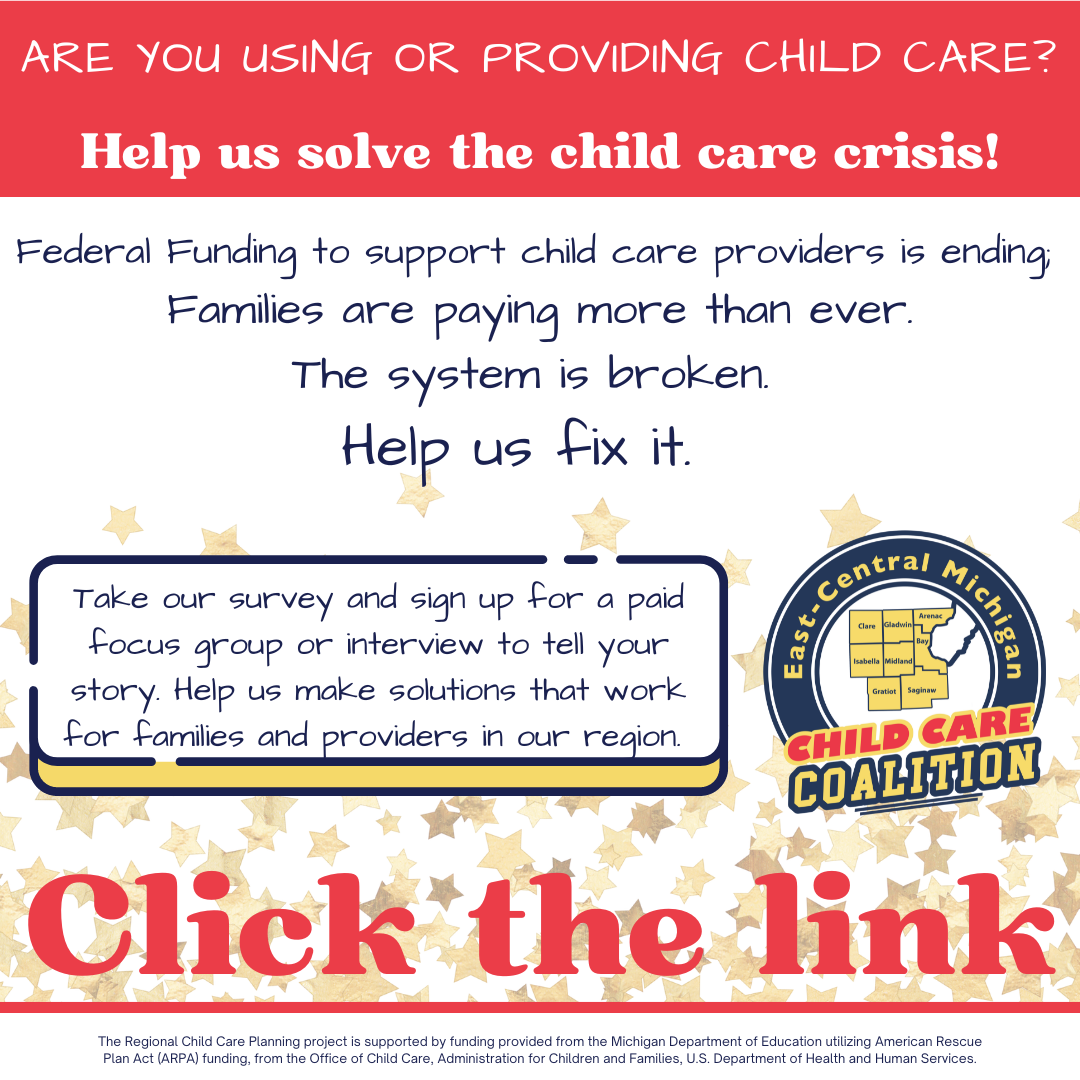 We're proud to be part of a coalition working to improve the child care crisis in East-Central Michigan!  Please help us solve the crisis by taking the applicable survey and sharing them with others: Parents & Families:  https://forms.gle/rp71TejM8Dj52qi16 Child Care Providers, Owners, and/or Directors:  https://forms.gle/iTVUM9QoRbUKqBba7