New placemaking project for Downtown Saginaw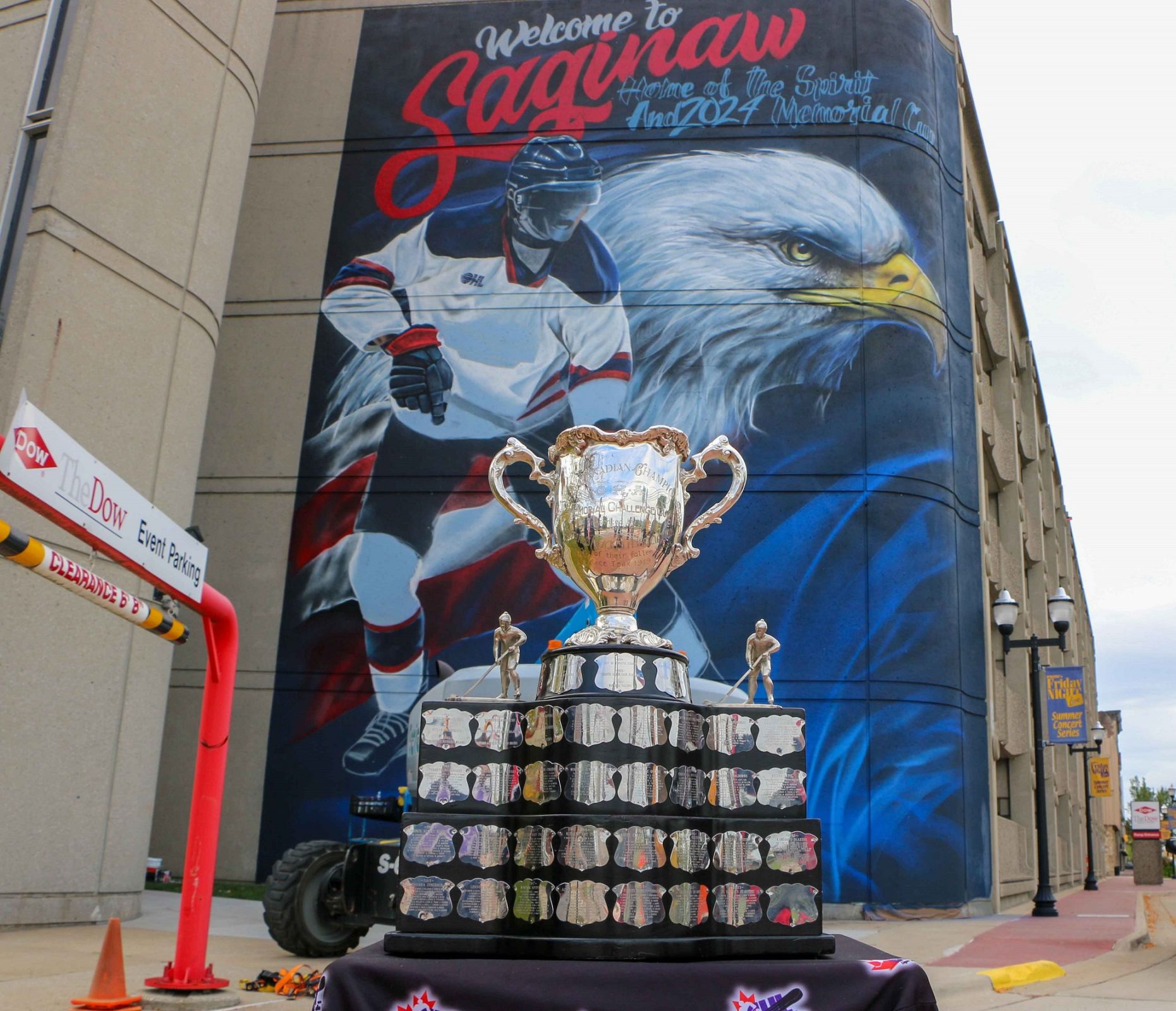 Memorial Cup Legacy Project will transform vacant space on Symphony Lane near Dow Event Center into a community asset that will attract and retain talent, improve quality of life in Saginaw
Completion of project to coincide with 2024 Memorial Cup ice hockey tournament, taking place May 24-June 2 in Saginaw for first time in Michigan history Saginaw Hockey
LANSING, Mich. – Gov. Gretchen Whitmer joined the Michigan Economic Development Corporation to announce that a new public gathering space will soon be coming to downtown Saginaw with support from the Michigan Strategic Fund. One of several placemaking activities currently taking place in Saginaw, the Memorial Cup Legacy Project will serve to enhance the image of the city and commemorate the 2024 Memorial Cup taking place in spring 2024.
"The Memorial Cup Legacy Project underscores our commitment to supporting our neighborhoods as attractive places to live, work and play by transforming underutilized properties into productive spaces. This project is another step forward in our strategy to grow Michigan's economy by helping communities across the state 'make it' in Michigan," said Governor Whitmer. "This investment will boost community pride and enhance the image of the city during this international sporting event, while also bringing a longstanding asset to residents and visitors, attracting talent, and serving as a catalyst for additional investment in the region. Let's continue moving forward and working together to ensure anyone can make it in Michigan."
The Memorial Cup Legacy Project plans to redesign and enhance a 300-foot section of Symphony Lane, a city-owned street near the Dow Event Center entertainment district. The street will be rebuilt and transformed into a vibrant public gathering space with bump-outs and infrastructure for food trucks, electrical access, Edison-style street lighting, a pedestrian-friendly crossing, a Memorial Cup sculpture, lighting, landscaping and connections to the Dow Event Center.
The Michigan Strategic Fund awarded the city of Saginaw a $1 million Michigan Strategic Fund performance-based grant in support of the project. The city of Saginaw is certified with MEDC's Redevelopment Ready Communities program.
Earlier this year, the Canadian Hockey League (CHL) announced that Saginaw and the Saginaw Spirit hockey team will host the 2024 Memorial Cup games. The city of Saginaw is a key partner for this unique international event. In the 100-plus year history of the Memorial Cup, this is the first time it has been hosted in Michigan, and only the fifth time in the United States. The local regional economic benefit from the Memorial Cup games is anticipated to be approximately $20 million within the region.
"We're pleased to join our local partners in supporting this project and we're thrilled to help welcome the 2024 Memorial Cup to Saginaw, Michigan. This project reflects Team Michigan's continued work to 'Make It In Michigan' and attract more People, revitalize more Places and compete for and win more Projects," said Quentin L. Messer, Jr., CEO of MEDC and President and Chair of the MSF Board. "We thank Governor Whitmer, legislators from both parties, and local officials for their continued support of the Michigan Community Revitalization Program and all MEDC efforts. Bringing this competition to Saginaw is an important albeit incomplete step in the continuing work to transform Saginaw and communities across both peninsulas. Saginaw and all Michigan cannot wait to roll out the welcome mat to show all visitors great action on and off the ice."
This project is one of several that the city and community groups are undertaking to commemorate the Memorial Cup event. At the Henry Marsh Bridge (I-675), adjacent to Symphony Lane, a mural has been commissioned to honor the legacy and contributions of Mayor Henry G. Marsh. At Hoyt Park, additional park infrastructure will be installed to enhance the usability of the park. These signature placemaking projects ensure residents and visitors can be proud of telling the story of their city to an international audience.
"Major events like the 2024 Memorial Cup in Saginaw bring thousands of visitors and millions of dollars in economic impact to Michigan communities," said Dave Lorenz, Vice President of Travel Michigan, part of the Michigan Economic Development Corporation. "These improvements will create a new public gathering space that will help Saginaw and Michigan's Great Lakes Bay region shine on an international stage during the Memorial Cup, and will continue to draw visitors to the city's riverfront and entertainment district for years to come."
The project will also serve as a gateway to downtown Saginaw, and the improved entrance will enhance the image of the entire downtown business district. With the proposed improvements, Symphony Lane will become a community asset that will aid in the attraction and retention of quality talent by improving the quality of life in the city of Saginaw. Beyond the Memorial Cup, this project's legacy will serve the community as a public gathering place for years to come.
Michigan continues to attract national and global attention for major sports attractions and events in the coming years, in addition to the 2024 Memorial Cup. In 2024, the NFL draft will take place in Detroit at Ford Field on April 25-27. On Saturday, April 3, 2027 the 2027 NCAA Men's Final Four will take place at Ford Field, with the national championship game tipping off on Monday, April 5, 2027.
Local voices in support of the Memorial Cup Legacy Project:
"What an honor it is for Saginaw to host this prestigious sporting event. With the help of this grant, Saginaw will uphold the tradition and spectacular nature of the event," said state Rep. Amos O'Neal (D-Saginaw). "I am already wishing the Saginaw Spirit hockey team the best of luck and look forward to Saginaw's commitment and enthusiasm for putting on a wonderful and well-planned series of championship games. It wouldn't be the same without MEDC's commitment to renovate Symphony Lane as well as the Memorial Cup Sculpture."
"As hosts of this major international event, the 2024 CHL Memorial Cup Presented by Dow from May 24th-June 2nd, we are grateful to the MEDC for their support of this major legacy project," said Saginaw Spirit President and Managing Partner Craig Goslin. "The project will redesign and enhance Symphony Lane as it is transformed into an excellent/high quality food truck space for the Memorial Cup and beyond. It will surely be a Riverfront Saginaw highlight for decades to come long after the Memorial Cup is completed. The Memorial Cup Sculpture, lighting and landscaping will prove to be a 'can't miss attraction' for thousands of Canadian and American visitors that will travel to Saginaw for the 10-11 days in late May of 2024."
"The city of Saginaw would like to thank the MEDC for funding to support the Memorial Cup legacy project in the heart of downtown," said Saginaw City Manager Tim Morales. "Reconstruction of Symphony Lane near the Dow Event Center will help create a sense of uniqueness to Riverfront Saginaw and provide a place for people to gather, grab a bite to eat, and meet friends before a concert, film festival, comedy show, or Saginaw Spirit hockey game. Development of this formerly vacant space will not only provide long lasting memories for those who attend next year's Canadian Hockey League Memorial Cup Tournament, but will create a sense of place for years to come."
"We are so grateful to the MEDC for supporting this once-in-a-lifetime event in downtown Saginaw," said Saginaw Future President JoAnn Crary. "This aligns perfectly with the state's focus on creating vibrant places that attract and retain talent. We also want to thank the many partners who are helping to make this event a success, including the area Convention & Visitors Bureaus!"
###
About Michigan Economic Development Corporation (MEDC)
The Michigan Economic Development Corporation is the state's marketing arm and lead advocate for business development, job awareness and community development with the focus on growing Michigan's economy. For more information on the MEDC and our initiatives, visit www.MichiganBusiness.org. For Pure Michigan® tourism information, your trip begins at www.michigan.org. Join the conversation on: Facebook, Instagram, LinkedIn, and Twitter.
Established in 1992, Saginaw Future Inc. (SFI) is a public-private alliance of local businesses, the County of Saginaw, City of Saginaw, 16 local municipalities and the Saginaw County Chamber of Commerce. SFI's strategic partners also include education, labor and government. Since its beginning, SFI has remained dedicated to fostering quality job creation through expansion of local industry and attraction of new business projects to the community. www.SaginawFuture.com
More Topics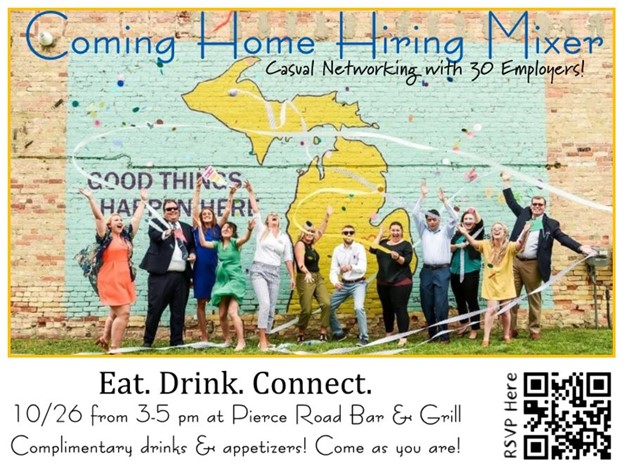 CONNECTING CAREER SEEKERS WITH EMPLOYERSSaginaw, Mich., part of the Great Lakes Bay Region, October 4, 2023 Join Discover Great Lakes Bay for a business casual networking experience that will offer an opportunity for career seekers who are currently in the region or have left and are interested in coming home...

The MEDC International Trade Program has a new allocation of Michigan State Trade Expansion Program (MI-STEP) funds available now for eligible small businesses. The U.S. Small Business Administration awarded Michigan $900,000 for the 2024 fiscal year which began Oct. 1. The total funding available is $1.2 million thanks to combined...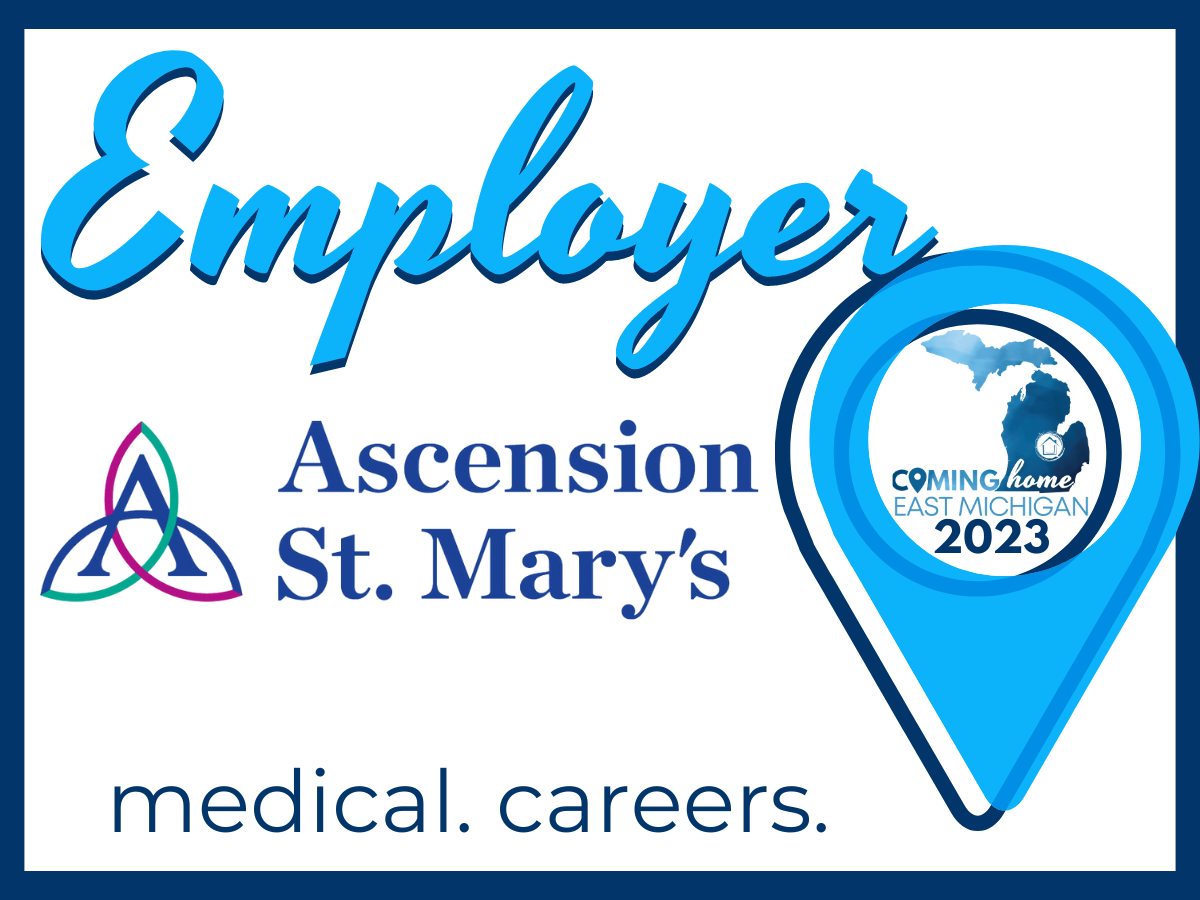 Check out #ComingHome East Michigan's networking mixer at Pierce Road Bar and Grill in October and meet with local employers like Ascension St. Mary's. Register today: https://form.jotform.com/231665071575156 Here is a little of what Ascension has to offer: Registered Nurse, MRI Technologist, CT Technologist, Medical Assistants, Security Guards, Surgical Technologist